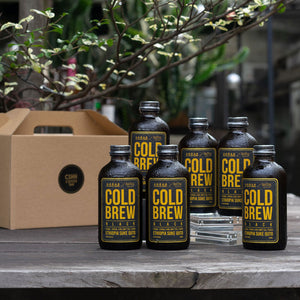 Chye Seng Huat Hardware
Black Cold Brew
Sale price Price $48.60 Regular price Unit price / per
Tax included.
Pure, unadulterated cold brewed coffee made using 100% specialty-grade single origin beans. Perfect for those who needs a quick morning perk-me-up, expect taste notes of peach, earl grey tea and a citrus finish in this cold brew made using PPP Coffee's Ethiopia Suke Quto.
Each pack contains 6 x 250ml of cold brew.
Storage Instructions
Please keep refrigerated at a temperature between 3-8°C and consume within 7-10 days. Coagulation may occur as a result of low temperatures. Please shake well before consuming.
Corporate Orders
For corporate orders or enquiries, please email cshh@pppcoffee.com.